The technology we use at Stayner Dental Centre helps us provide patients with efficient dental care. Our equipment includes digital X-Rays and same-day restorations.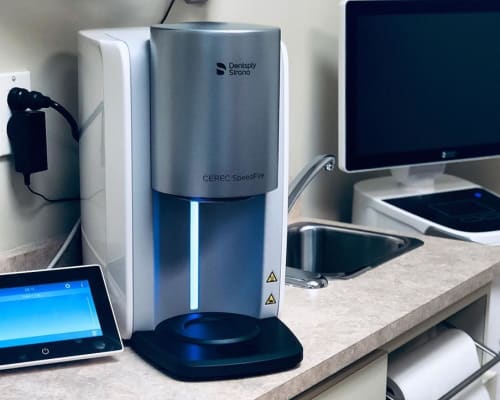 Technologies at Our Dental Clinic
At Stayner Dental Centre, we leverage technology to help inform treatment planning and make your dental appointments run smoothly. We can display digital X-Rays and scans on monitors in our treatment rooms, which means we can show you any issues in your mouth and help you understand your treatment plan. 
Our mission is to provide patients with efficient dental care and keep them fully informed about their oral health. Dental technology helps us accomplish this goal. 
Digital X-Rays
Instead of traditional photographic X-Ray film, digital X-Rays use digital sensors to produce highly detailed computer images of a patient's teeth and gums, along with other oral structures and conditions. This allows your dentist to examine parts of the mouth that would not be visible otherwise.
CEREC Same-Day Restorations
In a single appointment, we can fabricate and place ceramic dental crowns, inlays and onlays with the  CEREC® (Chairside Economical Restoration of Esthetic Ceramics) system. With CEREC, you'll have fewer injections and spend less time out of your busy schedule at dental appointments. 
New Patients Always Welcome
Looking for a dentist in Stayner? We're happily welcoming new patients at our dental clinic! Contact us to get started today.
Request Appointment
Location
Stayner Dental Centre
7477 ON-26,
Stayner,
ON
L0M 1S0
CA
Phone
(705) 428-6234
Hours
Monday: 08:30 am - 08:00 pm
Tuesday: 08:00 am - 08:00 pm
Wednesday: 08:00 am - 04:30 pm
Thursday: 08:00 am - 04:30 pm
Friday: 08:00 am - 02:30 pm
Saturday: Closed
Sunday: Closed